Go Bananas is a fast paced 5 reel, 3 row, 20 payline online slots game, featuring symbols of five different types of monkeys.  It is an action packed game offering plenty of chances to win big rewards. The game, Go Bananas, is set in a tree house in the tropical jungle, with a gang of mischievous monkeys, juicy fruits and glittering gems.
Whenever any of the monkeys appear on the reels, they turn the symbols on either side of them into Wild symbols. If there is a win, the friendly and jovial monkeys come to life to help celebrate the win in full animation.
This game allows players to adjust both the coin levels and the bet level to suit whatever they feel comfortable with. Winning bet lines are formed by identical symbols on a bet line, and on reels on either side, reading from left to right. Special game features are the five different symbols replacing Wild Monkey symbols, each with their own separate characteristics and personalities. The game is easy to play, and the background and characters are amusing and charming.
Graphics and Story Line
Go Bananas is all about monkey business. This is a cheeky game, just meant for playing fun, although this monkey business can also be rich business. The story line of a group of monkeys which celebrate and dance wildly on screen every time one of their faces appear, or if the player lands on one of the combinations of symbols that will earn a great reward. The graphics are vivid and bright, and the soundtrack lively. All of which ensures that the creators of the game decided to give the players a good deal of fun, and plenty of opportunities of being profitable.
Wild Symbols in Go Bananas
The Wild symbols will substitute for any other symbol, therefore the highest possible winning bet line combinations is created. Wild symbols can appear on all reels.
The Wild Monkey symbols are represented by the five different breeds of monkey. Each monkey has its own wild behaviour, depending on the breed of that particular monkey. If a Wild Gorilla appears on the reels it will diagonally transform four adjacent symbols into wild symbols, creating a pattern like an X of Wild symbols. A Wild Orang-utan appearing will change three adjacent symbols into a Wild symbol, forming a pattern like a cube.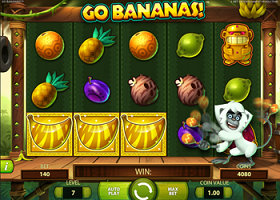 A Wild Baboon changes two other symbols vertically, and so may cover an entire reel. When a Wild Langur is seen on the reels it will change two other symbols horizontally on a row, thus it will create a block of three Wild symbols. The Wild Tarsier symbol appearing on the reel will change 1 adjacent symbol, either horizontally or vertically. Each of monkeys is endowed with its own unique personality, and the player can expect almost any action from them. The Wild symbols make it a lot easier to hit on that winning combination.
Go Bananas can be played for free or for money at most sites like the game of online blackjack Canada chosen here. Regular winning combinations pay out from left to right in reels one and three, in consecutive order. At least one of the symbols must be displayed on the first slot reel for the win to be paid out. A symbol combination which starts from either the second or third reel does not pay out.